Jeremy now has a website. See it here.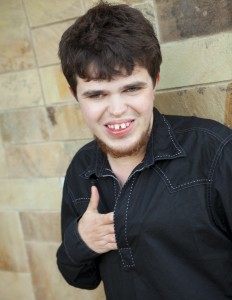 "Autism is an important influence in my life.
The hardest part is not being able to talk.
God must have been out of voices when he made me."– Jeremy Sicile-Kira
"Inspiring….touching… articulate……sensitive…," these are the words many now use to describe Jeremy Sicile-Kira, who was born in 1989 and diagnosed severely autistic as well as mentally retarded. His mother was told to find a good institution for him. Many years later, Jeremy passed the California High School Exit Exam on his first try. On June 18, 2010, Jeremy graduated from from high school with a 3.75 GPA. In addition, Jeremy was appointed the Autism Research Institute's Youth Representative to the United Nations – a good institution!
Jeremy's  first book, A Full Life with Autism: From Learning to Forming Relationships to Achieving Independence, co-authored with his mother was published by Macmillan in April 2012. As well,  Jeremy has synesthesia and  is an accomplished painter.
Jeremy auditioned for and was chosen to give a commencement speech on graduation day. Local TV stations NBC and Fox covered this event. There were articles in the Carmel Valley News, on the front page of The North County Times, and The Coast News.
Jeremy has experienced home schooling, special education, general education and many different types of therapies in California, France and the UK, and has clear opinions about what has been helpful – and what has not – to someone like him.
Jeremy is a Young Leader for the Global Autistic Initiative. Passionate about creating more understanding about people who are differently-abled, Jeremy has written articles for magazines (The Autism File, Autism-Asperger 's Digest), gives presentations, and is working on his first book. Jeremy wrote a monthly column "Life As I See It" for his Torrey Pines High School newspaper, The Falconer. He provides insight to educators, parents and his peers, on how to help others who are unable to communicate, and he encourages and inspires people facing challenges to be confident in their abilities, and to never give up. He had his first editorial published in the North County Times in April 2010.
Jeremy, now 21, was highlighted on MTV's documentary series True Life, in the episode, "I Have Autism" which was the recipient of a 2007 Voice Award. Jeremy's attempts to communicate using assistive technology in order to make friends was considered the second most inspirational moment out of nearly 300 True Life Episodes in 2009.
Jeremy has been the topic of various articles in national media, including the Newsweek cover story "Growing up with Autism." In 2006, Jeremy was honored with a Local Autism Hero Award from Cure Autism Now (CAN). In May, 2007 He was honored with two awards from Torrey Pines High School: The Falcon Award for Exemplifying Torrey Pines Pride and Excellence; and An Honorable Mention for the Golden Falcon Award.
For more information and to see Jeremy's art work, visit his website.